Whether you're looking at front extensions, side extensions, kitchen extensions, bedroom extensions or any other kind of house extension that takes your fancy, CK Architectural are on hand to help make it a reality from start to finish no matter where you are in Hull and East Yorkshire.
House extensions are an incredible way to maximise the space that you have available to you at home. They simultaneously help to add value to your life and value to your property by giving you more room to live, decorate, and ultimately have to work with at home.
they come in all kinds of shapes and sizes, and CK architectural are massively experienced in designing all of them.
Single storey extensions are an easy way to make more space where there isn't any. It can become anything you need it to, with applications of practicality like utility and study rooms through to feature rooms and somewhere bright to relax and feel comfortable.
Create a modern, open plan kitchen or expand your current living room design with a front, rear or side to become an incredible way to maximise your space and create somewhere you love to be no matter what the reason. That's perfect for the busy socialite or family chef in training.
Expand forwards to make more room for what matters with a front extension adding more depth by taking away some of the empty space you already have and create something brilliant.
With the right size garden or rear of your building, making that space into a private hideaway for the whole family or even bring the outside, inside and feel like you're spending more time outdoors with a rear extension.
Double storey extensions can be an even more effective way to maximise your space at home by creating the same impact both downstairs and up in the same project, minimising costs and maximising the benefits with the right design.
Create more space upstairs for an on suite or even a new bedroom all together if that's what you need with a thorough and complete design.
Side extensions can be a great way to make more room in a semi or fully detached house and provide you with more space to work with no matter what you need, whether that's one floor or two.
The House Extension Process
Before you begin developing your home extension plans, it's still essential to take notice of the process involved in creating one and the steps needed to do so to the highest standard possible. House extensions have the potential to change your whole living situation, and making sure they are perfect both architecturally and personally is something CK Architectural Hull and East Yorkshire are extremely passionate about.
When looking at house extension options, always remember that there are several features that you need to keep in mind to create your perfect space.
Purpose
Budget
Ventilation
Light
Escape routes
Access Points
Party Walls
Boundaries
Conservation
Mains Sewers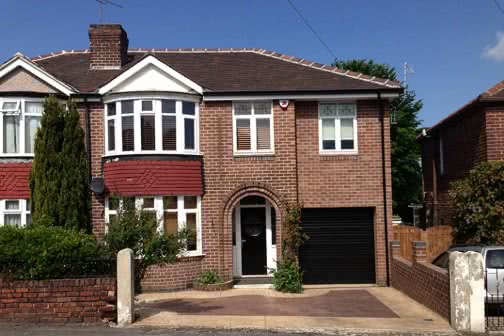 House Extension Design Options
Getting the design and layout for your single or double storey extension is vital to it being what you need it to be, and that is what we're here for. We're here to help you plan the whole thing from the earlier points such as purpose and current situation to understand what the extension needs to function in the way you want it to perfectly, with the layout and space we'll be working with as well.
Note: Clear glazing will generally not be permitted at first floor level within 7 meters of a boundary due to overlooking
Once we have all of that in order it's time to look at the exciting parts of the extension. This is where things like the roofing, glazing, and extra features to provide the wow factor you're dreaming of need to be thought about to allow your house extension to reach its fullest potential. We're experts in modern trends, materials and cost cutting know how to make the whole thing seamless.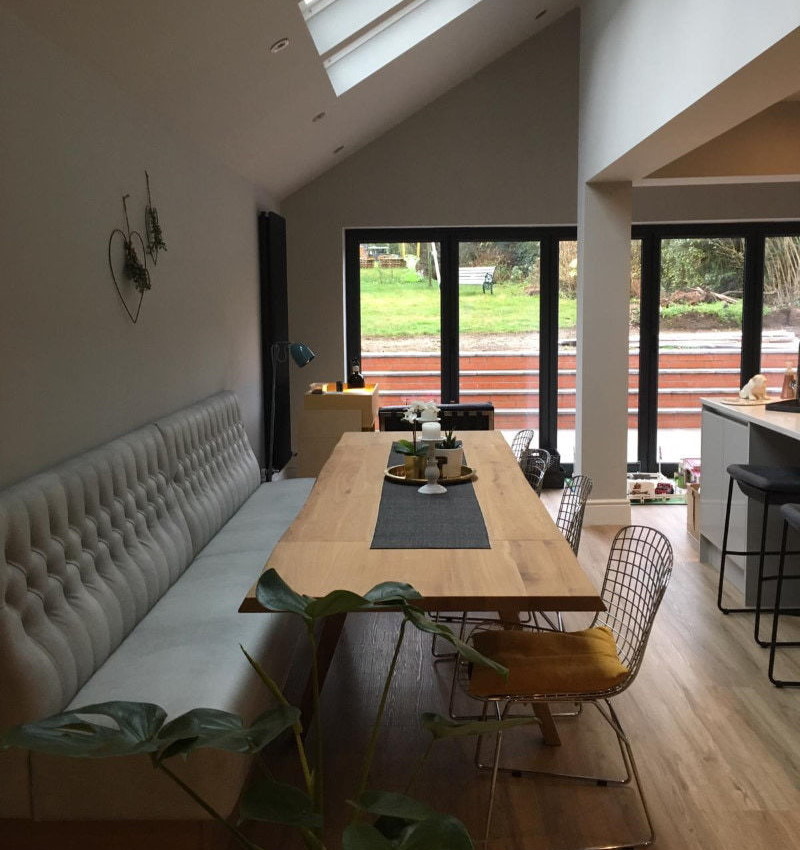 For the most part, single storey extensions don't require planning permission because of them being on permitted development. Larger extensions and double storey extensions however do have special requirements to look at of their own.
Larger rear single storey extensions over the permitted development measurements can be done on a prior approval application. This is a basically a planning application that's deemed approved. The council will send notice to any neighbours that share a boundary, and if no reasonable objections are made, its deemed approved.
If you do need planning permission for your single storey extension, there will be an 8-week period once all documents are submitted to the local council.
Here at CK Architectural, our design consultants will advise what type of application is needed and the likelihood of approval. We will check the design against the planning guidance, such as over development, impact on street scene, right of light, over shadowing, loss of amenity and outlook, massing/dominance, loss of privacy, etc.
Take a look at our Planning Permission Guide or the local Planning Portal for more information. 
Permitted Development Requirements
A small single storey extension to your home is generally considered to be permitted development, not requiring an application for planning permission, subject to the following limits and conditions:
No more than half the area of land around the "original house" would be covered by additions or other buildings.
No extension forward of the principal elevation or side elevation fronting a highway.
Single storey rear extensions must not extend beyond the rear wall of the original house by more than three metres if an attached house, or by four metres if a detached house.
In addition, outside Article 2(3) designated land* and Sites of Special Scientific Interest, the limit is increased to 6 metres if an attached house and 8 metres if a detached house.
These increased limits (between 3m and 6m and between 4m and 8m respectively) are subject to the prior notification of the proposal to the Local Planning Authority and the implementation of a neighbour consultation scheme. If objections are received, the proposal might not be allowed.
Maximum height of a single storey rear extension of four metres.
Maximum eaves height of an extension within two metres of the boundary of three metres.
Maximum eaves and ridge height of extension no higher than existing house.
Single storey side extensions maximum height of four metres and width no more than half that of the original house.
Roof pitch of extensions higher than one storey to match existing house.
Materials of new single storey extension to be similar in appearance to the existing house.
On designated land no cladding of the exterior.
On designated land no single storey side extensions.
Most alterations and extensions to your home in Hull and East Yorkshire will require a building certificate from a building control body, either from the local authority or a private building inspector.
Once the design and planning has been approved, you will then need a detailed set of drawings and specification that demonstrates the new extension can and will be built in accordance with the building regulations approved documents.
These building regulations drawings will then be submitted for a full plan check, amended if necessary, and once approved will be the standard that your project is to be built to and inspected against.
Our plans will include all the necessary detail such as structure, passage of sound, disabled access, drainage, resistance to moisture, collision, impact, heat loss, ventilation, light, emergency escape and much more.
These drawings will be used when the building control officer inspects the build, to ensure the builder is carrying out the works correctly.
Building Process and Builders
To make sure that we offer you everything that we possibly can to give your home the perfect extension, we also offer an additional project management service on top of the original designs. We help with every step of the build working directly with builders on your behalf to ensure that everything is done as it should be without any room of disagreements thanks to our thorough knowledge and wealth of experience on projects.
If you do wish to take on the build yourself, we're still always happy to recommend builders for the job. We do however recommend that you make it adherently clear about what it Is that is expected and work out the finer details pre contract, as this could easily lead to disagreements and extended costs otherwise.  I's also heavily advised that you consult with your builder about plumbing and electrics well in advance for total clarity on the job.
What is the cost to build a single storey extension?
Unfortunately, there is no set answer. The building work will depend on many different factors such as existing structure, roof type, location, choice of materials etc.
However, we can give you the average cost of a single storey extension breakdown to help you budget and plan ahead. Whether it's a side extension or rear extension the price will be similar.
£1,500 to £1,900 per square metre for basic quality single extension
£1,900 to £2,200 per square metre for decent quality single extension
£2,200 to £2,400 per square metre for exceptional quality single extension
For an average single storey extension of 4m x 5m, the build cost would therefore be £30,000 upwards for basic quality, from £38,000 for decent quality and from £44,000 for exceptional quality.
CK Architectural Hull builds house extensions across the whole of East Yorkshire, based in Hull and working right through to Bridlington, Beverley, Howden and Goole. Contact us today for a personalised quote and we'll update you with all of the information you need
Bridlington

Howden

Goole

Hull

Beverley

Driffield